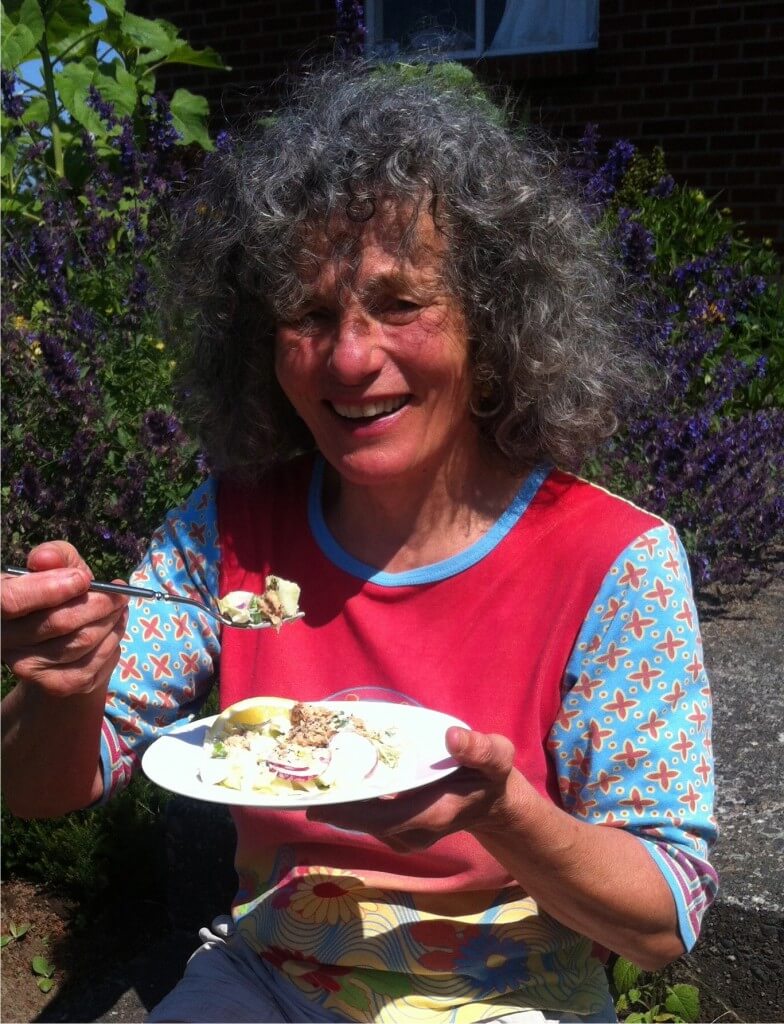 I do solemnly swear, canned wild Alaska salmon is the best lunch food in the world. Not only is it delicious, eating wild salmon at lunch seems to make for a better day all around. Whether it is the quality of the protein, or the abundant long chain omega3 fatty acids or the high vitamin D, I feel better when I have eaten wild salmon at lunch. Eating canned salmon makes that goal readily achievable. Just open the can! There couldn't be a better, easier lunch.
A health care practitioner I once knew likened eating wild salmon to burning natural gas versus the 'diesel' of cheese or other proteins. He reasoned that eating fish metabolizes 'hot and clean,' like natural gas. This analogy fits my experience.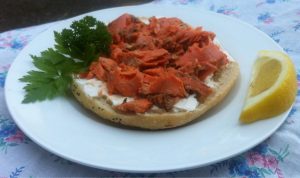 We at Pure Alaska Salmon Company love the many canned salmon recipes, but the day-in-day-out recipe that we most use is Salmon on a Bagel. This is optimal, delicious nutrition you can enjoy at the office with minimal preparation. The following is my recipe for three days of lunches.
I generally consume a half of a bagel at lunch. I could probably eat more, but a whole bagel is too much. If I am hungry, I lay on extra salmon, or maybe eat a few nuts.
Monday morning, bring in;
1. Two sliced bagels. If you you are concerned about them getting stale, freeze them, sliced, as they toast up just fine. Estimated average cost; $1.00
2. 1 can 7.5 oz (or 6 oz, if you prefer the fillets) can of Redhead sockeye salmon or Thinkpink pink salmon. Put the contents into a separate plastic container to refrigerate. Estimated average cost; $4.75.
3. A container of cream cheese or it's less fatty cousin Neufchatel cheese. Neufchatel has about 1/3 less calories than cream cheese–70 calories versus 100 calories in a 1 oz serving, and the flavor is indistinguishable. Estimated Average cost $2.00
4. Three slices of lemon; Estimated average cost 25 cents
5. Optional; Some chopped onion and some capers. Estimated average cost 25 cents
All you need now is a can opener, a fork and a napkin to wipe your chin. If your office kitchen has a toaster, toast a half a bagel, and then spread on some cream cheese to taste. A scant two tablespoons should more than work. Open the can of salmon, and dump the contents into the storage container. Pick out about a third of the salmon and put on top of the cream cheese, squeeze on some lemon and maybe some onion and capers and dive in.
By my rough calculations this lunch has about 400 calories, at a cost of $ 3.00 per serving with about half the daily recommended requirement of protein for adults.
Try the Canned Salmon for Lunch Experiment and then 'like' on Facebook and leave a message about your experience on our blog. When we have 50 comments from 50 people, we will draw straws for a free variety pack of Pure Alaska wild Alaska salmon.