Recipes
Simply    Delicious    Nutrition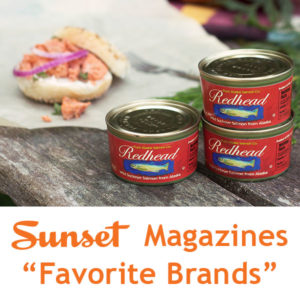 Canned Alaska wild salmon adds easy, excellent protein to any meal.
No doubt the most common way to eat canned salmon is straight out of the can. Check out Jim's Go-To Salmon Spread Ideas, for just a few of the many, many ways to quickly doll up canned salmon.
Canned wild Alaska salmon makes a fantastic protein in many recipes typically using tuna, crab or even chicken breast. For instance, many celebrated chefs have their own version of the crab cake, and using canned salmon in these gourmet recipes makes a very fine substitute, yielding wonderful results at far less cost. Cooking with Canned Wild Salmon
Our Favorite Canned Salmon Recipes
Here are our favorite canned salmon recipes. We have included only those we actually use at home and on the boat.