Everybody loves a late, lazy brunch on the weekends. This classic recipe is updated a bit with salmon and horseradish; a classic combination for a special meal.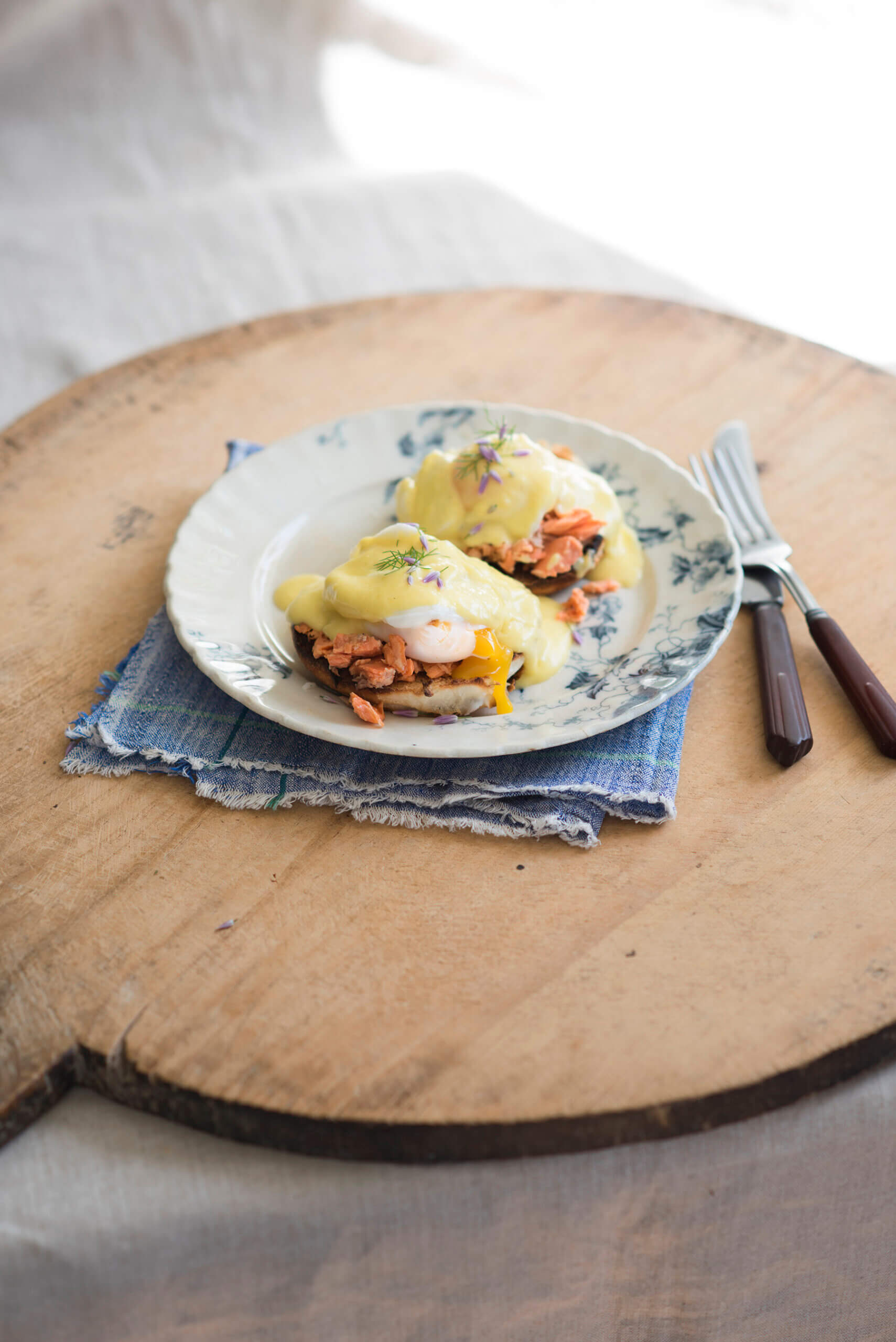 4

English muffins

Split

8

eggs

1

egg (large)

Beaten

1 1/2

tsp

Dijon

2

TBL

fresh chives

Minced

2

TBL

fresh dill

Minced

1/2

Cup

white onion

Finely Minced

1 3/4

Cups

whole wheat breadcrumbs
Horseradish Hollandaise
2

egg yolks (Large)

1 1/4

Cups

unsalted Butter

2

TBL

horseradish

2

TBL

lemon juice

salt & pepper

To Taste
Over medium heat sauté onions until just soft and set aside. In a medium bowl combine Salmon, Herbs, Onions, Dijon and Egg and mix well. Add Breadcrumb and mix until evenly combined. Form into cakes and Refrigerate 30 minutes-2 hours.

Preheat oven to 375 degrees while cakes are setting in the fridge and prepare a baking sheet with cooking spray and parchment. Bring a skillet up to medium-high heat and in batches brown both sides of each cake. After browning the cakes place on prepared baking sheet in the oven.

Put enough water into a large sauté pan to come up 2 inches in the pan. Add 2 Tablespoons white vinegar. Bring the liquid to a simmer. Begin to toast English Muffins and prepare Hollandaise (recipe below) before moving forward with the eggs.

Poach the eggs in a batch, no need to stir water when preparing more than a couple at a time. When fully cooked removed with a slotted spoon and drain on paper towels.

Layer each half of English muffin with 1 prepared salmon cake, a poached egg and 1/8 of the hollandaise. Garnish with fresh dill and chives.
Horseradish Hollandaise
Fill Blender with Hot Water and after allowing to heat up a bit empty and dry completely with a towel.

Add Eggs, Lemon juice and Horseradish and Blend until combined. With blender running slowly add hot butter until thick, creamy sauce forms. Season with salt and pepper and serve immediately.