Canned Alaska salmon, arguably, is the best protein for hot weather meals. Nutritionally, what compares with Alaska salmon? Not much, if anything-- maybe sardines?   Sardines, however, don't marry so well with other foods, as they like to stand alone accompanied by little more than a cracker.
Canned Alaska salmon is a friendly food and just loves to partner up with all kinds of salads, making a summer salad a complete, delicious and very nutritious summer meal.  And, did we mention, there is NO COOKING - just chop and toss and serve.
Try adding canned salmon to coleslaw, it makes a simply delicious combination. I take Lemony Salmon Coleslaw to potlucks, and it never fails to get numerous compliments. An even simpler recipe,
Asian Coleslaw, by Judy of Texas,
Combine bagged coleslaw mix
With a 7.5 oz can of Redhead wild Alaska sockeye salmon
Some toasted sesame seeds
Asian ginger salad dressing
Judy cautions to go light on the dressing, so the salad doesn't lose the great 'crunch.'  Jusy also puts this recipe together and lets it rest for 10 minutes before serving.
Potato salad is another classic summer food, that  when canned salmon is added, it elevates it from that yummy carb and fat rich classic to something you can eat as a main dish. I would add a little extra pickle juice or vinegar for that tang that goes so well with fish or,  sliced radishes achieves the same tangy effect.
Macaroni salad is nutritional kissing cousin to potato salad, and canned salmon works well in it too.
A Very Easy Pasta Salad is;
Bow tie noodles, cooked,
Some chopped onion--whatever is available from yellow onions to green onions
Peas, fresh cooked or thawed frozen
Mayonnaise, to taste
Salt & Pepper and perhaps some grated lemon rind
Greek salad is another recipe that pares nicely with canned salmon. I use a lemon vinaigrette rather than red wine, but either works well.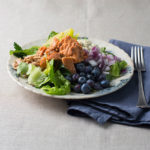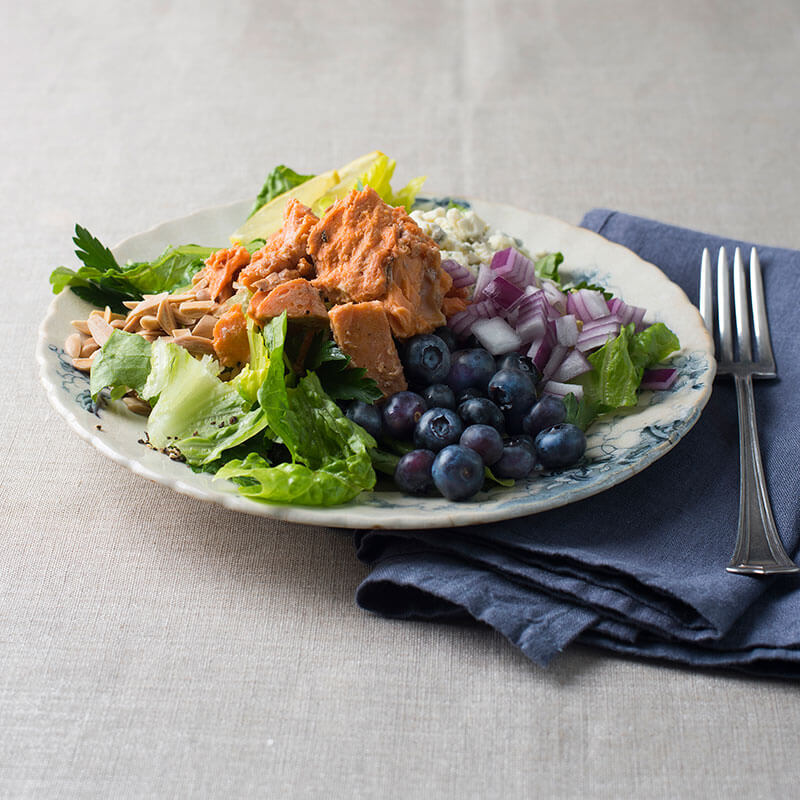 A green salad is a natural with canned salmon. Use your summer veggies and favorite dressing along with canned salmon and voila, here is a delicious and nutritious summer meal. I think blueberries work well with canned salmon. Blueberries and wild Alaska salmon really like each other. Blueberries grow along the salmon streams and bears eat both with great relish.
Green salad with salmon is so healthy, you need to have a double dip ice cream cone afterwards to balance all that virtue.