"How do you eat canned salmon?" is a common query from folks we meet at our food demonstrations.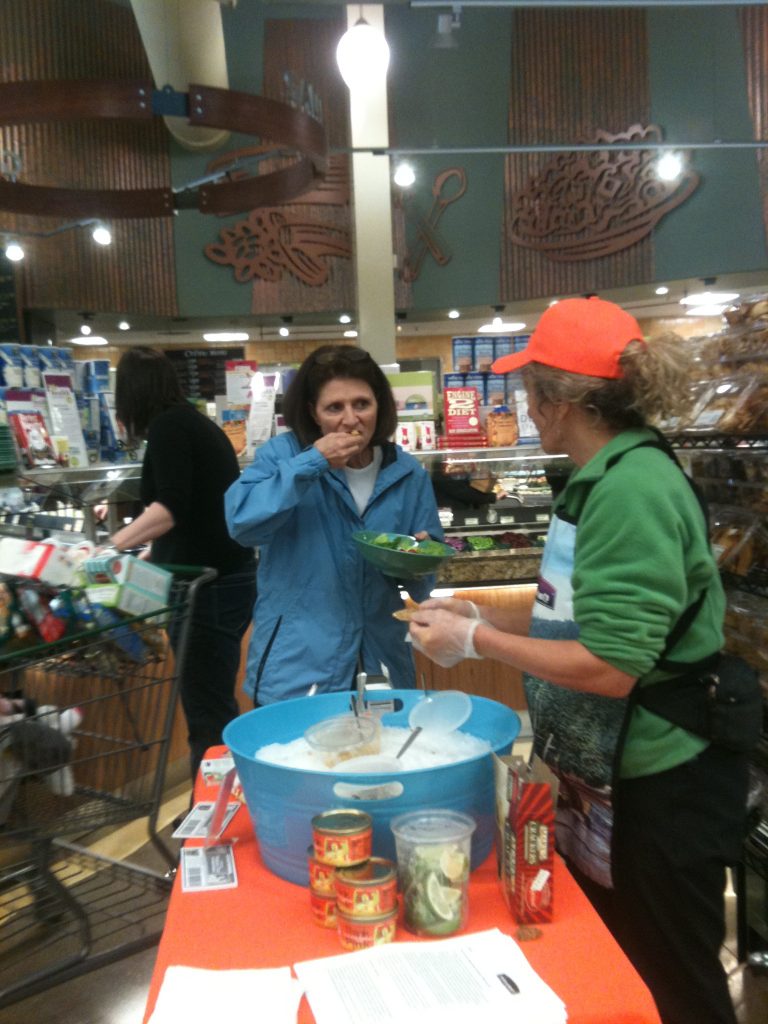 Canned Alaska salmon, especially in its traditional form, can be somewhat of a mystery food to the uninitiated. Complete with skin and bone, 'traditional pack' canned salmon I like to think of as the food symbol of the great, raw, wild, supremely healthy country that it came from Alaska.
People who have eaten canned salmon since childhood are comfortable with the presence of the highly nutritious skin and bone, sometimes claiming to having fought with their siblings over who got those delicious crunchy little vertebrae.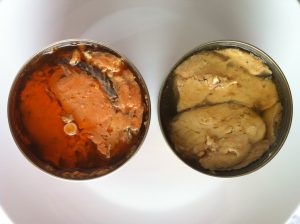 Other of us, often, ironically, from the salmon rich west coast, are puzzled, if not repelled by the presence of those highly nutritious anatomical parts that we mostly do not see in today's highly processed foods. I look at a deboned chicken breast or pork and there is little there to remind us of the living, breathing creature that once is now that hunk of defenseless flesh.
Not so with canned Alaska salmon that skin and bone is a badge of the life that was lived by that beautiful creature that felt the drive to leave its natal stream, traveling the Pacific Ocean for thousands of miles, and then return to its exact place of birth.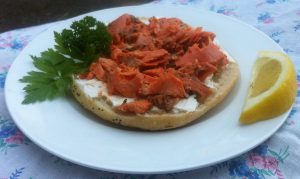 I have said this many times, and it is true, when mixed into recipes those skin and bone seemingly dissolve into the recipe. We have served various canned salmon recipes to thousands of people, and not once has the person detected the skin and bone, though we quickly tell them. Traditional pack salmon has nearly double the long chain omega 3 fatty acids as skinless and boneless canned salmon fillets (which are delicious, too) and also provides calcium due to the presence of the bone.
How to Eat Canned Salmon;
Straight Out of the Can! Just open the can, maybe squeeze on some lemon, and fork on! There is simply not an easier, better protein source than canned Alaska salmon.
Finely chop celery, add salmon, whether Redhead (sockeye) or Thinkpink (pink) salmon, squeeze on lemon and put on a dollop of cocktail sauce.
Drain a little of the naturally occurring juices (the oily liquid in the can comes solely from the fish itself, there is nothing added but a little salt), then add a little olive oil plus some chopped onion. That really evens the flavor out in a very delicious way
Forrest Gump Says, "Salmon Cakes, Salmon Salad, Salmon On A Bagel, Salmon Chowder, Salmon Pasta, Salmon Wraps, Salmon Cocktail…"
Eat canned salmon at lunch, or better yet breakfast, like the Japanese or Scandinavians, and see if the hunger pains don't stay away for hours. There something unique about protein from coldwater fatty fish that satiates like none other.
Delish, low calorie and energy sustaining!